My Activity Tracking
My target 200 kms
Last ride for May attempting to find the Cooks River!
Well, its my last ride for May for Pedal4Kids but I've loved it so I'll keep on exploring on my wheels!  Today, we were joined by Donna & Wes.  Our plan was to do the Cooks River Cycleway but it's a difficult route to find!  Didn't matter - great cycle route from Putney, over to Rhodes, Homebush, Strathfield and back through the lovely parklands of Bicentennial Park and back along the river.  Along the Rhodes Foreshore are 6 bronze cartwheeling girl statues - beautiful artistry by Caroline Rothwell. These weeks of cycling have been great - it's opened up parts of Sydney that I might never have come across, given my lungs and legs a bit of a workout, all the while hoping to help in a very small way to improving and maximising the exceptional care already given at the Respiratory Department at the Sydney Children's Hospital.  It's for the kids - they deserve it! 
Make it up as you go along Sunday!
Jonathan and I set off intending to ride the Cooks Cycleway but I think we ended up making up our own route!  Starting at Settlers Park in Ryde, we crossed over the Parramatta River and then rode through Brays Bay Reserve and on to Concord.  It's not until you get off the beaten track that you can appreciate what lies hidden.  Who'd have thought Concord had so many beautiful buildings including the historic Rivendell School?  Some of the time we felt like we were in the country!  We continued on to Breakfast Point hugging the water front to Cabarita.  Half way to Abbotsford we turned back and ended up getting the Mortlake Ferry across the water.  Just a final hill from the ferry to Putney and back to the car.  The weather was perfect and we feel like we've had a good workout, all while learning about the area with each pedal!  
Ride to Sydney Children's Hospital
It was too beautiful a day not to do a ride!  I ended up riding to Sydney Childen's Hospital, Randwick, the very reason I've ended up dusting off my bike!  I rode from home and got the ferry from  Huntleys Point to Circular Quay.  From there I followed the amazing amount of cycleways that have been created - through the botanical gardens (ignoring the no cycling signs - oops!), then through Hyde park, Taylors square, Paddington, and all the way past the sights of Moore Park, Centennial Park, The Race course, The SCG and ended up cycling parallel to the light rail before I turned off to Randwick.   And then of course, the route in reverse was in the dark!  So good to see the city from two wheels rather than the car, and get off the main drags and see all the wonderfully colourful side streets with their eclectic cafes & bars, especially in Surry Hills.  Loved it!  Thanks for all the donations - so appreciated.  
Lady Carrington Drive
Well, a huge contrast from the city last weekend to the Royal National Park today!  Lovely crisp sunny day - perfect for a bit of off-roading with Jonathan.  My first off-road for a long time - brought memories back of mountain biking in my 20's!  The bikes just about held up ok although were groaning a little by the end of the route, and they've picked up a fair amount of mud (as have we!).  All worth it for the hot chocolate and almond slice we happened to pick up at the finish!  
Mothers Day Moves
Just did a lovely afternoon ride to the fish markets and back with Gerry & Kaustav.  Great to see the city sights by bike.  A few nasty hills to tackle on the way back but we made it, and really, the effort we've had to put in today, pales into insignificance with the continued effort of these brave kids in hospital.  A really nice way to spend a Sunday.  Now off to celebrate motherhood with 2 of my 3!  Happy Mothers Day everyone!  
Inner West Circuit
What a gorgeous route today - Biked to Mortlake Ferry from home - great free service across the Parramatta River.  From there I rode a fantastic circuit hugging the river almost all the way.  It was made extra enjoyable with the company of Frank from Putney who I met on the ferry and asked if he could cycle with me.  I dropped it into the conversation that I was riding for sick kids!  He put me to shame as he says he cycles about 20km 3-4 times a week!  You could smell the coffee from the Bushells factory some of the way round.  Frank left me near Barnwell Park Golf Club and I continued on to Abbotsford where I jumped on the ferry to Huntleys Cove, and cycled back home.  We are so lucky in Sydney to have so many great spots to cycle, all with stunning views.  
Wheels to work!
Well I made - just!  Didn't anticipate the fog - so glad I got my new lights!  Got to work with time to sort myself out and park my bike for a rest!  Conveniently for me, I think it is going to rain for the rest of the week - couldn't possibly arrive at work like a drowned rat - back to the car tomorrow!  
Centennial Park
A nice little circuit through Centennial Park this afternoon taking a detour to the stables to look at the horses.  Beautiful bright day and the whole world out on their bikes with us!  I'm never going to lose weight if I cycle with Jonathan and we stop for tea and cake along the way each time!  Oh well, it is Sunday!  
The Challenge begins - 1st May - Woolwich Wheels
What better way to spend the afternoon when you realise you are free to do what you please as everyone else is at sport or work, than getting the wind in your hair from your rusty bike!  I rode down to the very tip of Woolwich Penisular.  Such a gorgeous old suburb (although very hilly!).  I took in all the sights, enviously eyed up the gorgeous sandstone cottages and ended up with the spectacular harbour view from the ferry wharf!  A great start to my month of cycling.  
Anzac Day ride
Did a dummy run ride to work to see if I could do it.  Well, firstly I think google maps estimates that you are doing it on an electric bike when giving you an idea of time it'll take.  With my good old fashioned pedal-power it certainly took me a bit longer!  Lovely ride though - gorgeous weather and we really are lucky to live in such a beautiful city.  Great to cycle along the waterways and see so many people exercising.  I was reminded just how hilly Sydney is!  
Training ride
Thank you to my gorgeous friend Donna Cook for riding with me along the Parramatta River yesterday.  What a beautiful day too - perfect for the 15 km reasonably flat ride!  Loved it.  Thanks to FB Market place too - bike lights purchased and charging! 
Preparations for biking in May
Having driven home from work just now, it's occurred to me that I may want to get some lights for my bike if I'm going to be cycling to and from work!!  Added to this weekend's job list!
I'm cycling for sick kids at Sydney Children's Hospital, Randwick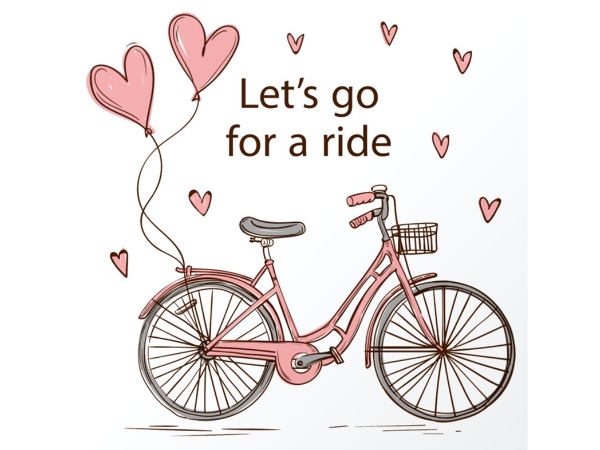 Hello! 
I needed a challenge, so I've just signed up to Pedal 4 Kids - a big ride for little lives at Sydney Children's Hospital, Randwick.
Whilst getting fitter (hopefully!) and having a bit of fun, exploring the local area, and shuffling through the gears of my very old bike, I'm determined to help raise vital funds for the respiratory department.
Conditions like asthma and Cystic Fibrosis may sometimes be invisible, but the challenge is very real for these brave children. Together, we can help find a solution to the most serious, life-threatening conditions affecting Australian children today.
I'd really appreciate your support and encouragement (I'll need it!).  If you could sponsor my ride, it might just help those little kids. Let's make a difference.

Thank you to my Sponsors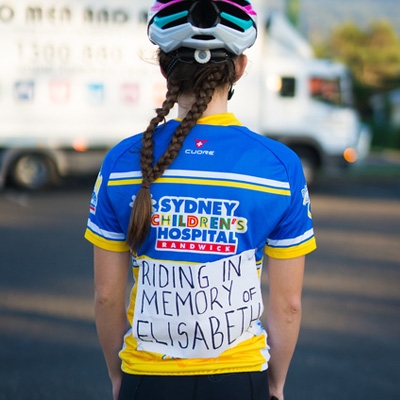 Dc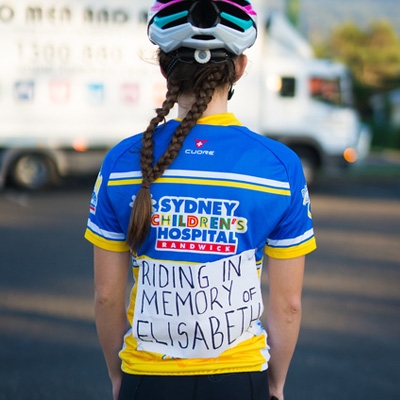 Patrick Wong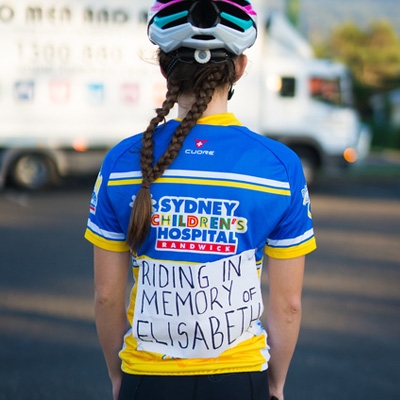 David Rankin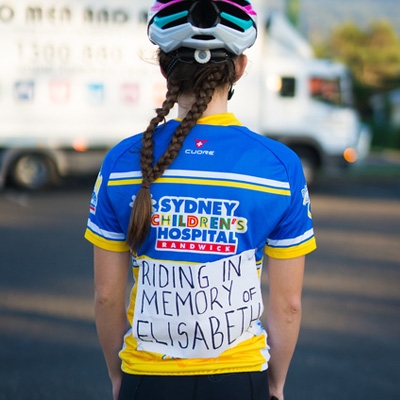 Andrew Teh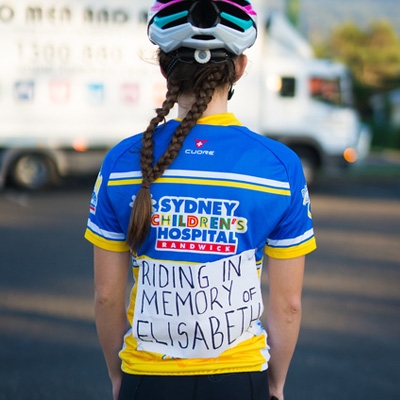 Julie Sidery-wood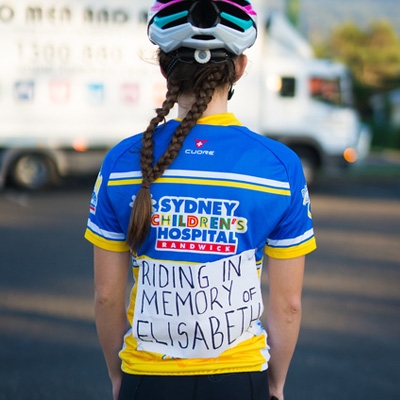 Joanna Staikos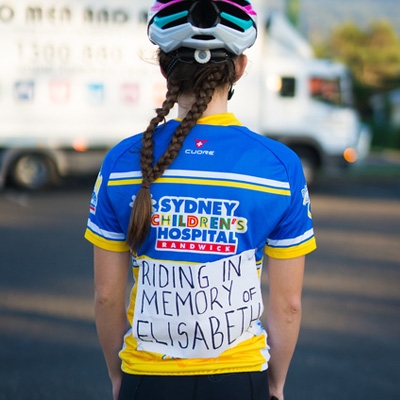 Sarah C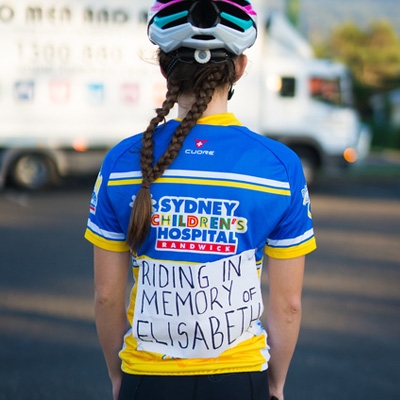 Linda Mann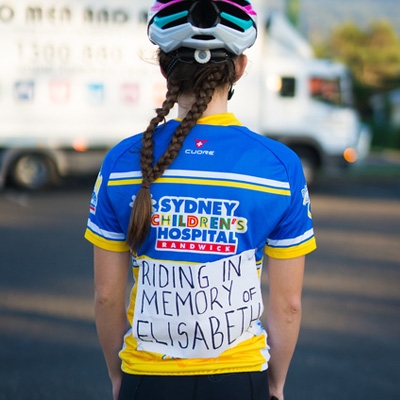 Kate Clowes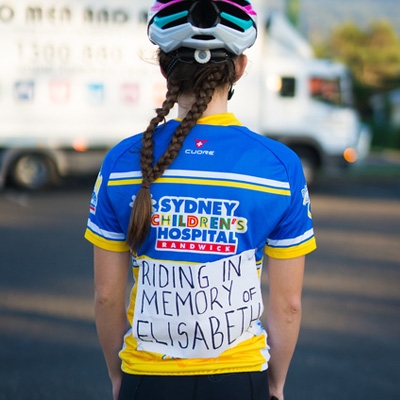 Paula W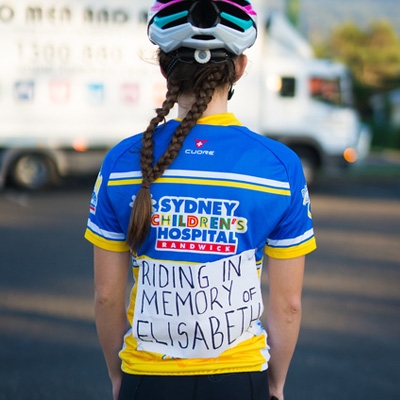 Jenny Thai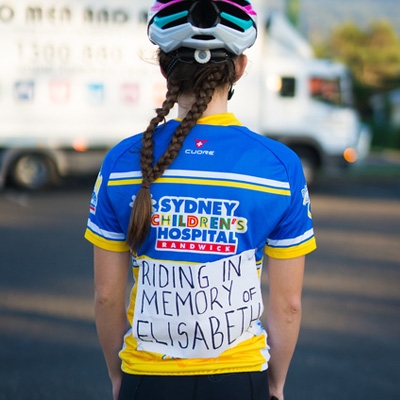 Jenny Hughes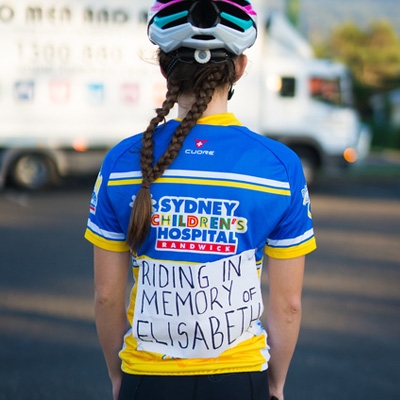 Vanessa Collins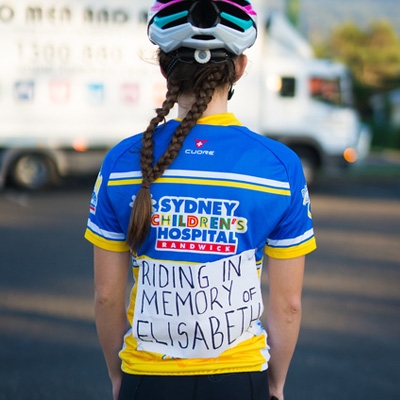 Sylvia Lavis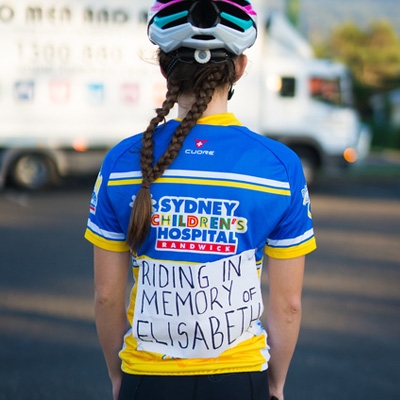 Bron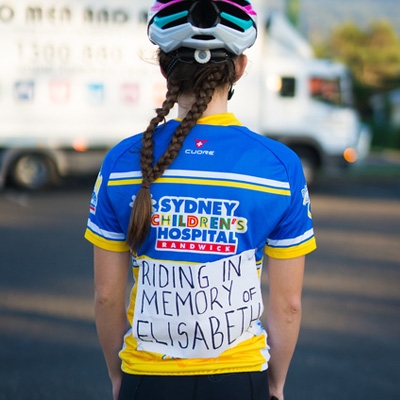 Gerry Bhattacharya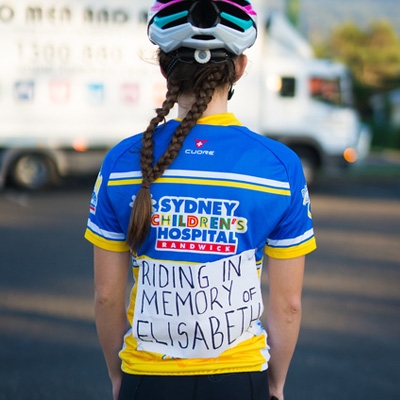 Caroline English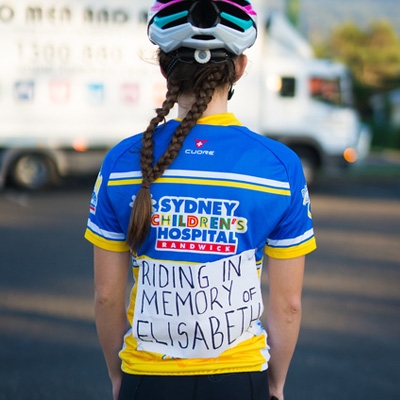 Geoff Hyams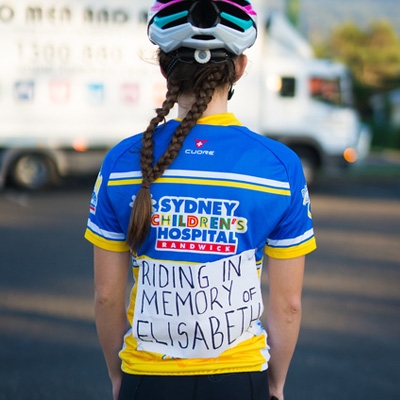 Jonathan Hughes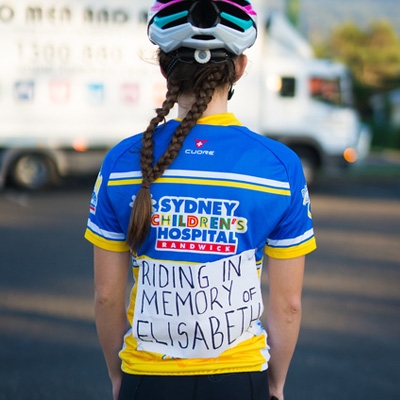 Carol Reed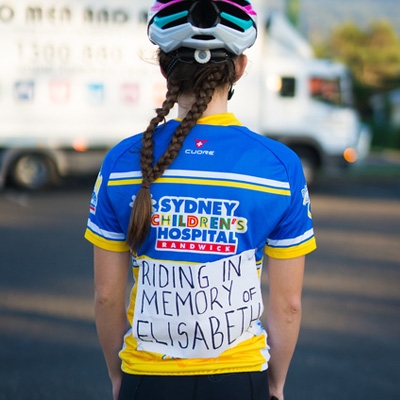 Mary Jane De Rouffignac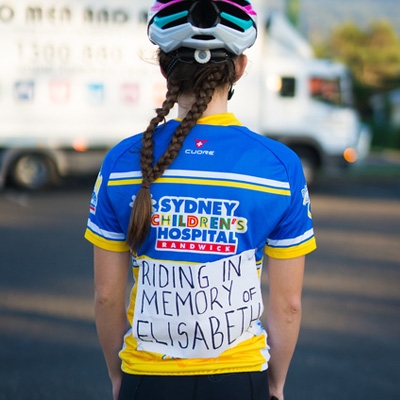 S&k Geraghty
Jenny Hughes