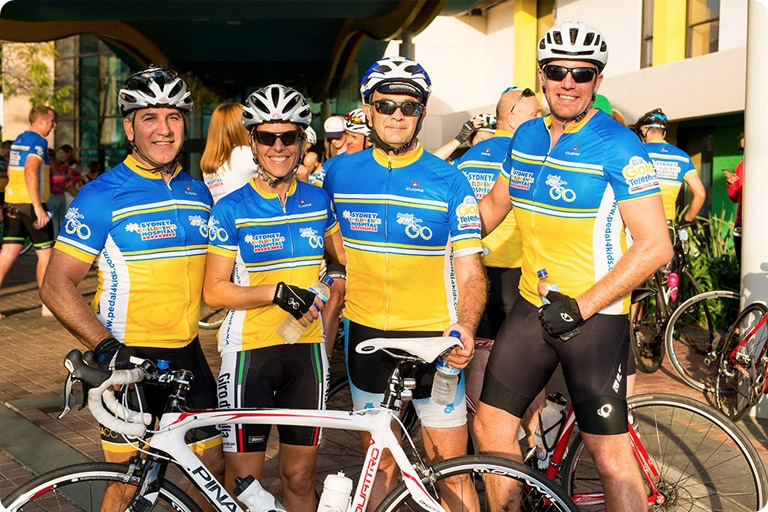 Ride Day Logistics - Coming Soon
Training ride schedule - Coming soon
Food and Refreshments
Breakfast and lunch will be provided for you en route however please bring your own nutrition such as bars/gels as appropriate. There will be a water container in the support vehicle travelling with your group that you will be able to access throughout the ride.
Nutrition
Nurtrition will play a major role in your training and on the day of the event. So here are some tips:
Divide each long ride into thirds:
1st third – Low GI; protein and complex carbohydrates (protein bars, ham sandwich).
2nd third – Medium GI; less protein and more carbs (muesli bars, bananas, isotonic gels).
3rd third – Hi GI; "sugar hit" lollies and gels (the key to the last third is to make sure you have enough high GI product to get you through the entire period. Falling short can result in cramping and a debilitating drop in blood sugar).
Training Inspiration
A weekly training regime that would enable you to build your fitness could look like this:
(1 long endurance ride + 1 hills ride, all other ride sessions are a bonus)
Time in the saddle is important. If you have a wind trainer/indoor trainer this is a great way to add in extra training and build up hours in the saddle and training during winter or in wet weather.

Monday - Rest day
Tuesday - 30–40km/1½-2hrs flat terrain
Wednesday - 30km/hill repeats (start with 20mins and build up to 1½ hrs)
Thursday - Rest day
Friday - 30–40km/1½-2hrs flat terrain or varied terrain (concentrate on pacing yourself)
Saturday - 60-80km/3-4hrs long ride
Sunday - 80km/4hrs long ride (aim to build up to 5–6hrs in the saddle)

The aim for you would be to ride between 200km–250km a week, so you can divide it up according to your work/family/life commitments.