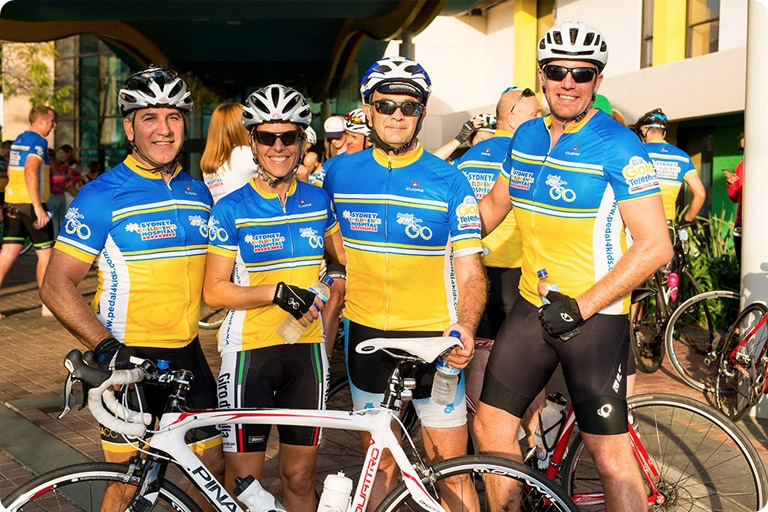 Ride Day Logistic
Randwick Meeting Point & Time:
(for the riders catching the bus)

Sydney Children's Hospital, Main Entry, High Street, Randwick
Contact Clare Sayer 0413 204 334
5:00am arrival

Buses:

Buses will depart at 5.30am sharp. The buses are full so if you've changed your mind and will be catching the bus please let me know ASAP.

Your bikes will be transported to the start line by our generous supporters Two Men and a Truck.

Thirroul Meeting Point & Time:

Thirroul Beach Pavillon Café
23 Cliff Parade, Thirroul NSW
Contact Ben Mildren 0401 589 630
7:30am arrival

Kiama Meeting Point

The Sebel Harbourside
31 Shoalhaven St, Kiama NSW
Contact Kylie Midren 0407 893 221
7.30am arrival

Jerseys:

Jersey's will be distributed at the Hospital or at specific start lines.

Breakfast:

For the riders meeting at the Hospital at 5am, don't worry we'll provide you with breakfast & have the wonderful Barista-2-Go serving coffee!

For the riders meeting at the start lines in Thirroul or Kiama, just let the Thirroul Beach Pavillon Café or The Sebel Quarry Bar know that you're with the Pedal 4 Kids event and your coffee will be on us!

Lunch:

Lunch will be provided for you along the ride. This will include muesli bars, sandwiches, bananas and water.

Support:

Pedal4Kids is a fully supported ride which means each group rides together for the whole route with a support vehicle following each group. The group does have to stay together and ride as a peloton which means if there is a rider that starts in a group but finds it is not suitable, the rider can move groups at a suitable point along the ride.

Supplies & Gear:

Each group is supported by a SAG wagon (Supplies and Gear) which means you can bring a small day pack with you. This will be carried by your group's SAG wagon from start to finish and will be available for you to access throughout the ride.

Day Pack:

In your day-pack, you can bring your personal items, arm warmers, vest, spare tubes etc. Food, water and sunscreen will be supplied in each SAG wagon. If you train on gels, please make sure you bring those with you.

Celebratory BBQ:

We'd love you to join us after your ride at Sunny's Café for a well-deserved BBQ. Please invite your families to cheer you across the finish line and join for the celebrations.
Training ride schedule as follows:
Saturday 24 February
Sunday 17 March
Saturday 7 April
Sunday 29 April
Each training ride will commence at St Ives, Pattison's Patisserie Mona Vale Rd.

Distances will vary between 80km and 120km depending on riding abilities and event distance chosen. We will cater for both the 83km and 132km riders.
Please let either Kylie or Ben Mildren, of Mildren Events, know if you are joining the ride so they know to look out for you.
Ben Mildren: 0401 589 630
Kylie Mildren: 0407 893 221
Food and Refreshments
Breakfast and lunch will be provided for you en route however please bring your own nutrition such as bars/gels as appropriate. There will be a water container in the support vehicle travelling with your group that you will be able to access throughout the ride.
Nutrition
Nurtrition will play a major role in your training and on the day of the event. So here are some tips:
Divide each long ride into thirds:
1st third – Low GI; protein and complex carbohydrates (protein bars, ham sandwich).
2nd third – Medium GI; less protein and more carbs (muesli bars, bananas, isotonic gels).
3rd third – Hi GI; "sugar hit" (lollies, gels) - High GI (the key to the last third is to make sure you have enough high GI product to get you through the entire period. Falling short can result in cramping and a debilitating drop in blood sugar).
Training Inspiration
A weekly training regime that would enable you to build your fitness could look like this:
(1 long endurance ride + 1 hills ride, all other ride sessions are a bonus)
Time in the saddle is important. If you have a wind trainer/indoor trainer this is a great way to add in extra training and build up hours in the saddle and training during winter or in wet weather.

Monday - Rest day
Tuesday - 30–40km/1½-2hrs flat terrain
Wednesday - 30km/hill repeats (start with 20mins and build up to 1½ hrs)
Thursday - Rest day
Friday - 30–40km/1½-2hrs flat terrain or varied terrain (concentrate on pacing yourself)
Saturday - 60-80km/3-4hrs long ride
Sunday - 80km/4hrs long ride (aim to build up to 5–6hrs in the saddle)

The aim for you would be to ride between 200km–250km a week, so you can divide it up according to your work/family/life commitments.